Austin New GMC Sierra 1500 AT4X Overview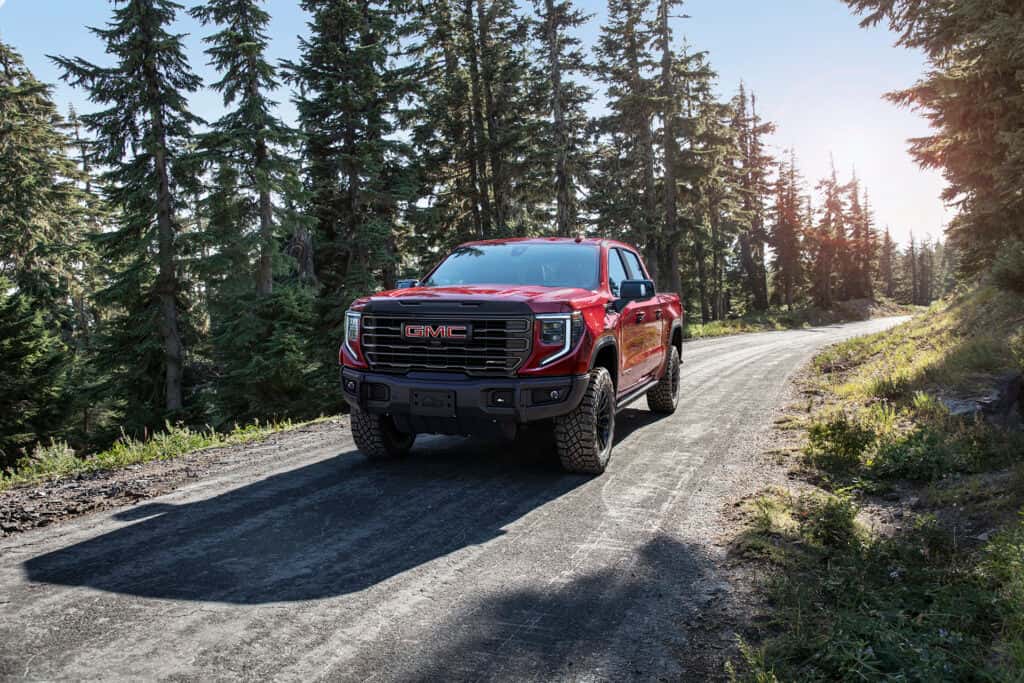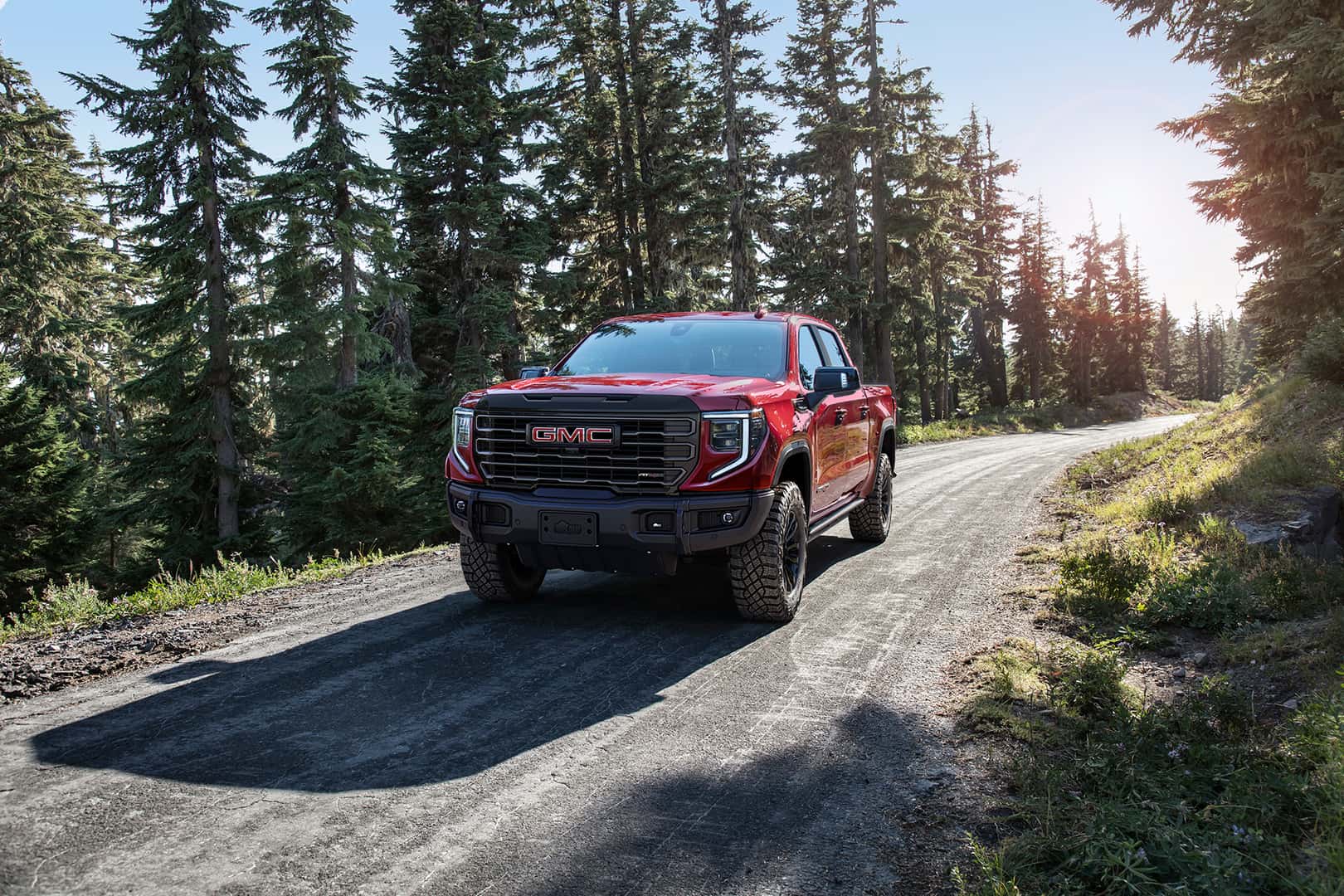 Austin New GMC Sierra 1500 AT4X Overview
Are you searching for a truck that is perfect for any work or recreational situation? Look no further, the Austin new GMC Sierra 1500 AT4X has everything you could possibly want and more. With its advanced engine specs and luxurious interior design, this vehicle is bound to make an impression wherever you go. Not only does it boast impressive gas mileage, but there are also incredible safety features included in every model too. And with a solid warranty from GMC as back up, your peace of mind will be secured when driving behind the wheel of your new Sierra AT4X. Read on to learn more about what sets this powerful pickup apart from all others!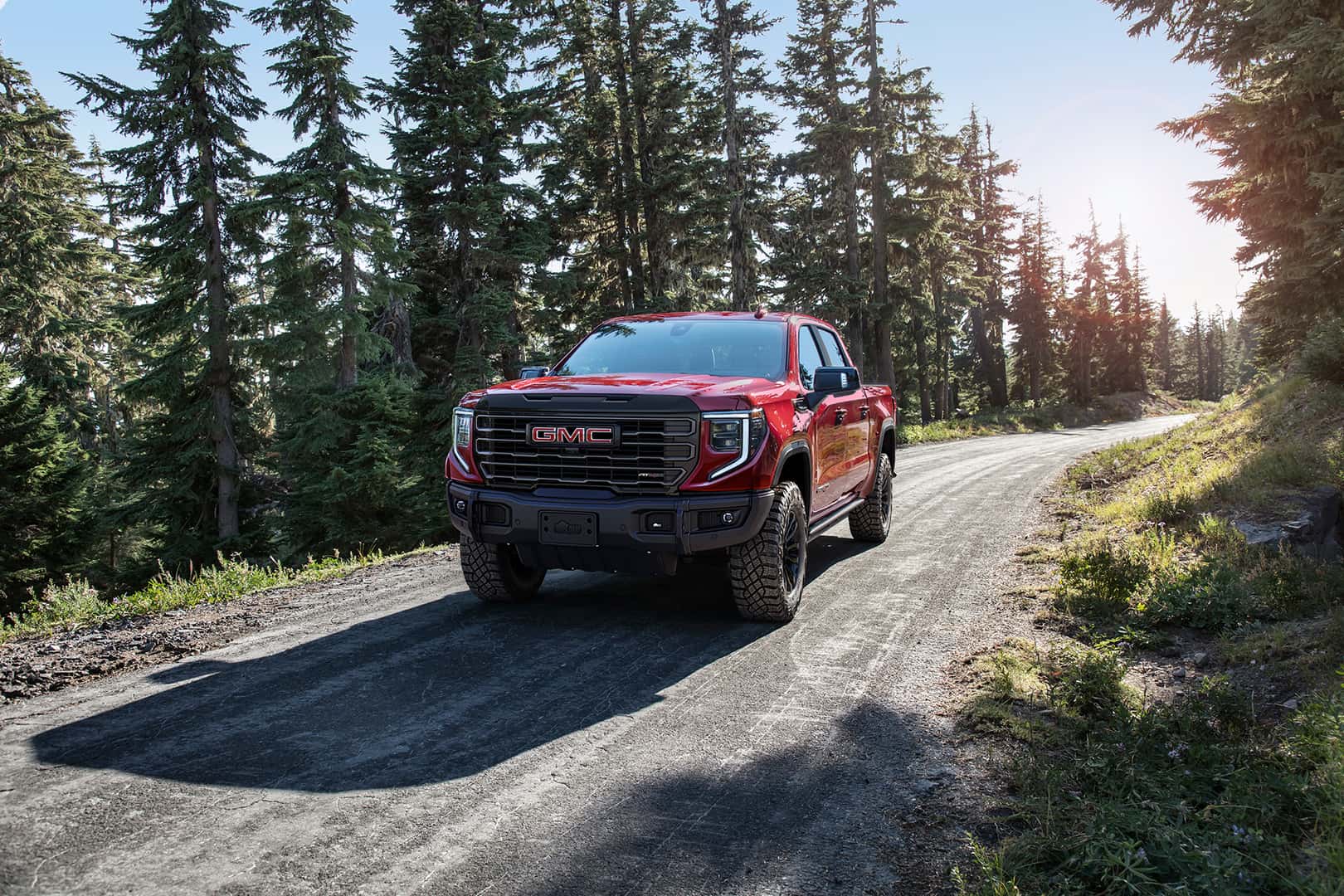 2023 GMC Sierra 1500 AT4X
Quick Stats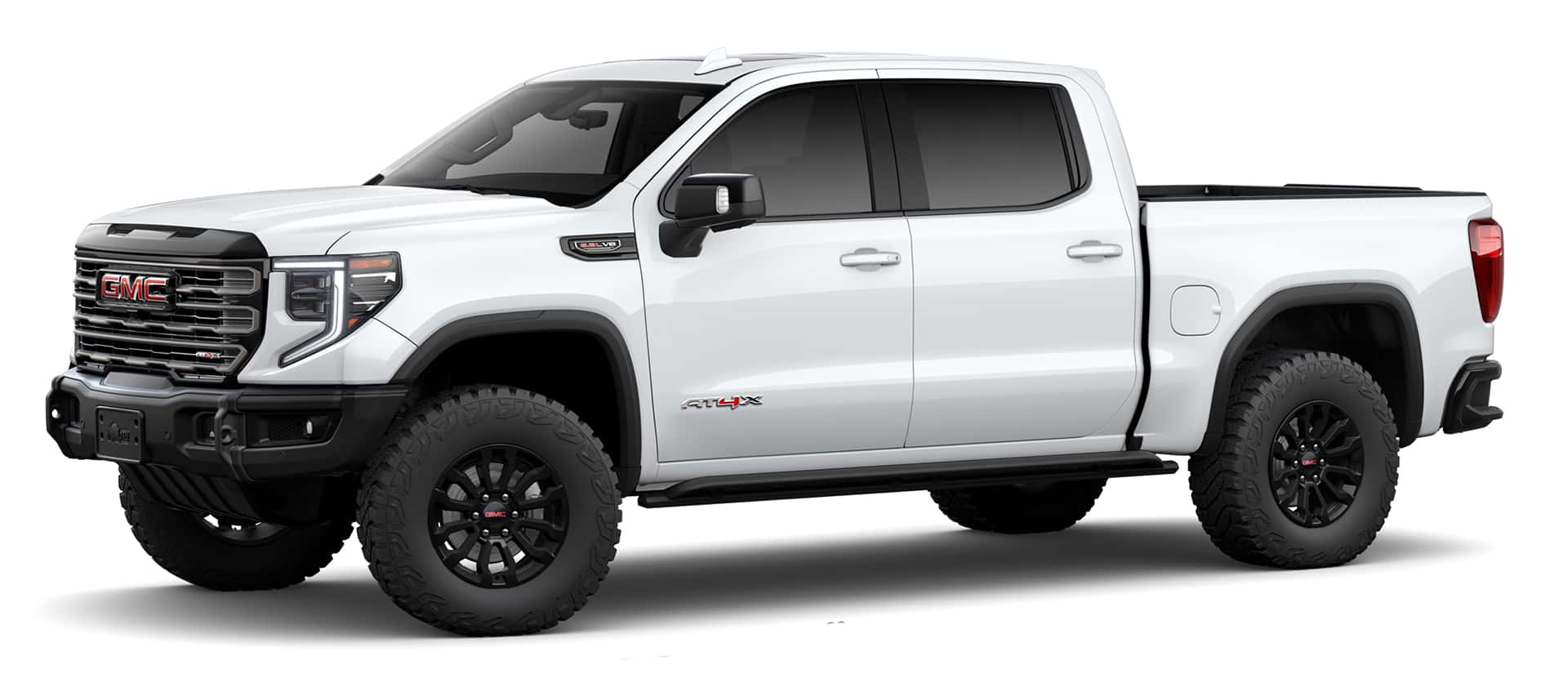 Below are a few quick highlights of the new GMC Sierra 1500 AT4X. Call Us at (512) 371-6863 with any questions.
Starting MSRP:
$ 81,700
Gas Mileage:
up to 14 City / 17 Hwy
Seating:
Up to 6
Safety Rating:
5 stars
Introducing the New GMC Sierra 1500 AT4X
GMC recently unveiled its most capable Sierra pickup yet – the AT4X. This premium off-road truck is built to conquer the most challenging trails. Powered by a 420-horsepower 6.2L V8 engine and 10-speed automatic transmission, the AT4X delivers incredible capability and performance. Inside, premium appointments include a 15-inch head-up display, leather and carbon fiber trim, and a premium sound system. The AT4X also offers innovative features like a multi-color head-up display, rear camera mirror, and CarbonPro carbon fiber cargo box. With distinctive styling and outstanding capability, the GMC Sierra 1500 AT4X lets you explore the open road or off-road terrain like never before.
New GMC Sierra 1500 AT4X Engine Specifications – Look Under the Hood
The all-new GMC Sierra 1500 AT4X comes equipped with a powerful 6.2L V8 engine that produces an impressive 420 horsepower and 460 pound-feet of torque. This engine is mated to a smooth-shifting 10-speed automatic transmission and either rear-wheel drive or four-wheel drive, allowing the Sierra 1500 AT4X to tow up to 9,600 pounds when properly equipped. The V8 provides strong acceleration and ample power for both on-road and off-road driving. When looking under the hood of the Sierra 1500 AT4X, the bold engine makes a statement that this truck is built for capability and performance. Overall, the Sierra AT4X has the muscle to get the job done.
Austin New GMC Sierra 1500 AT4X Interior Design – Comfort and Style
The new GMC Sierra 1500 AT4X delivers comfort and style with its rugged yet refined interior. Premium materials like leather and aluminum accents surround the driver and passengers, creating an upscale yet durable cabin perfect for both work and weekend adventures. The front seats are heated and ventilated, with 10-way power adjustability and lumbar support for the driver. A heated steering wheel is available as an option for cold winter mornings. An 8-inch color touchscreen sits front and center, housing GMC's latest infotainment system with navigation, Apple CarPlay and Android Auto integration, and a premium Bose audio system with 7 speakers. It's a well-appointed space that balances capability and comfort, much like the Sierra 1500 AT4X itself.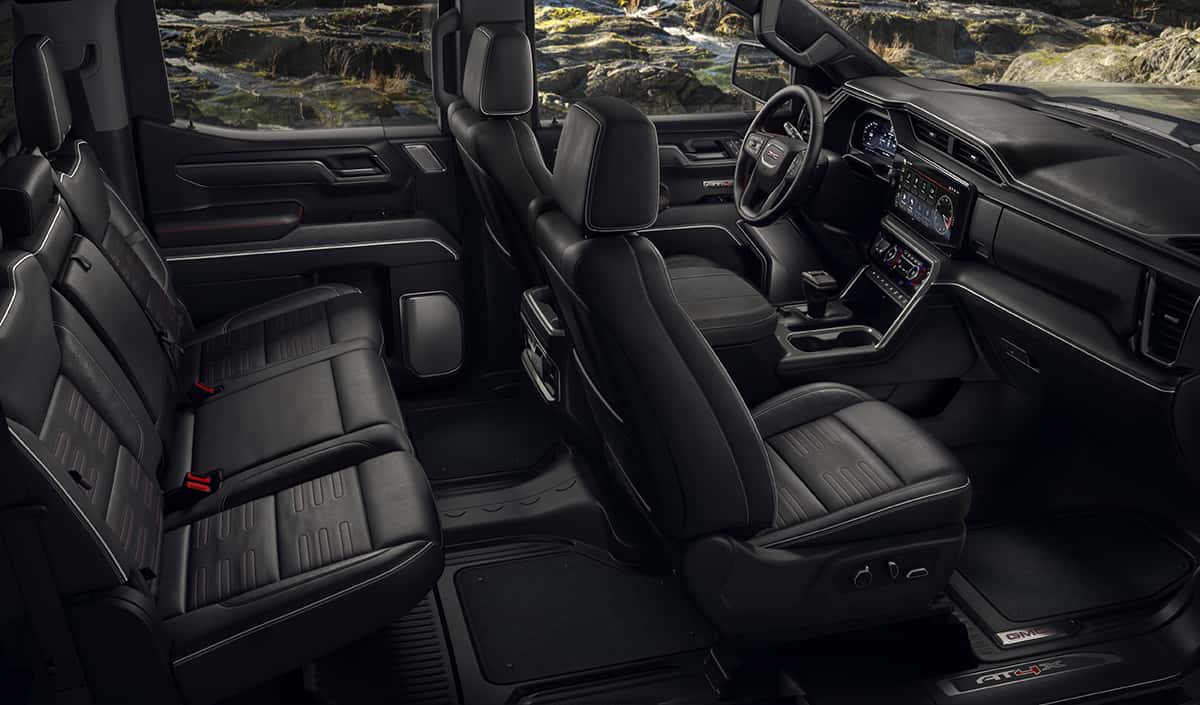 Around $81,000
Starting MSRP
Austin New GMC Sierra 1500 AT4X On-Board Technology – Connecting You to the World
The all-new GMC Sierra 1500 AT4X is outfitted with some of the most advanced onboard technology available in any pickup truck. Its expansive, reconfigurable 10-inch diagonal touchscreen displays provide access to navigation, streaming music apps, and more, all while enabling Apple CarPlay and Android Auto integration. An available 15-inch head-up display projects key information like speed and navigation directly in your line of sight on the windshield. The Sierra AT4X also offers available 4G LTE Wi-Fi connectivity for up to seven devices, so you can bring your digital lifestyle along for the ride, no matter where the open road takes you.
Austin New GMC Sierra 1500 AT4X Safety Features – Keeping You Protected on the Road
The all-new GMC Sierra 1500 AT4X comes loaded with cutting-edge safety technology to keep drivers and passengers secure on the road. Its comprehensive suite of advanced driver assistance systems includes automatic emergency braking, forward collision alert, lane keep assist, blind spot monitoring and rear cross traffic alert. Should an accident occur despite these preventative measures, 10 standard airbags provide ample protection. When venturing off-road, the AT4X's rugged suspension and protective skid plates help avoid damage from rocks and rough terrain. Between its strong yet lightweight body construction and wealth of high-tech safeguards, the Sierra 1500 AT4X delivers peace of mind behind the wheel.
Austin New GMC Sierra 1500 AT4X Gas Mileage
The all-new GMC Sierra 1500 AT4X delivers an impressive combination of power and efficiency. Under the hood is a powerful 6.2L V8 gas engine that produces an estimated 420 horsepower and 460 lb-ft of torque while still achieving an estimated 17 MPG on the highway. The Sierra 1500 AT4X lets you tackle tough jobs or long road trips.
Contact Us to Learn How to Get Your New GMC Sierra 1500 AT4X
The GMC Sierra 1500 AT4X has gone above and beyond in providing vehicle versatility and exceptional handling. Equipped with advanced off-road technology, robust engine capability, a luxurious interior design, and a whole host of safety features – it is the perfect choice for anyone who wants a reliable vehicle for daily driving or off-road adventures. Best of all, it comes with an impressive warranty to give you extra peace of mind! If you're thinking about getting your hands on the all-new GMC Sierra 1500 AT4X – don't wait any longer. Contact us today to learn how to get one and rush toward new journeys wherever they may take you!